Rent Smart Devon
East Devon, Exeter City, Mid Devon and Teignbridge Councils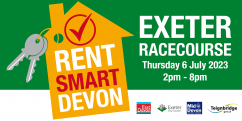 You are invited to the next Rent Smart Devon event (formerly the Renting Minefield), the premier local event for private landlords, letting agents and anyone involved in letting property.
This free event supported by the National Residential Landlords Association will host exhibitions from specialist companies covering many aspects of property management, as well as support organisations available to help smooth the tenancy pathway. There will be a range of experts on hand to answer your questions.
The event includes a number of helpful bite-size talks covering a range of topics and recent policy and legislation changes. A detailed agenda will be published nearer the time.
Doors open at 2.00pm for networking opportunities with presentations starting from 3.00pm. Presentations will be offered in break-out rooms and repeated across the evening, offering flexibility on what you attend and when. Further details on the presentation timetable and how to sign-up will be shared nearer the time.
VENUE DETAILS:
Exeter Racecourse, Haldon, Near Exeter, EX6 7XS
There is free parking on site.
For more information, please email claire.[email protected]