Home Building & Renovating Show
Home Building & Renovating Show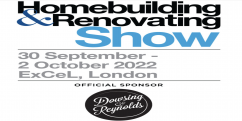 Date:

Friday, 30 September, 2022 at 10:00

Location:

ExCel, London

Type:

Exhibition

Cost:

Free



UK's first National Home Energy Week launches to help householders 'switch off' fuel poverty

The UK's first National Home Energy Week debuts from 26-30 September, ahead of this winter's cold temperatures and expected higher energy bills, as the national energy regulator Ofgem is on course to raise the cap on household energy bills to nearly £3,000 in October.

The initiative, launched by Future plc, publisher of some of the world's most popular magazines, will provide practical ideas and guidance on improving energy efficiency and home heating to help millions of people avoid falling into fuel poverty.

National Home Energy Week will examine real-life case studies, from a terraced property to a period home, including buy-to-let flats, and demonstrate how accessible home energy options priced for different budgets can help people insulate and heat their homes efficiently at an affordable price that delivers a return on investment.

Energy efficiency experts will cut through the hype, debunk the myths and offer pragmatic and realistic solutions for homeowners, landlords and tenants, especially those on fixed incomes. A host of advice and guidance will be available to householders across the channels of Future titles including Homebuilding & Renovating, Homes & Gardens, and Ideal Home.

A key part of National Home Energy Week is the London Homebuilding & Renovating Show at ExCeL from 30 September to 2 October 2022. The event will offer visitors a completely new experience that will assist them with their home energy queries and projects.




Show goers wanting individual advice on how to save money on bills and reduce carbon footprints can talk to eco-focused experts at the Home Energy Academy. During the Home Energy Hour, industry leaders in home heating efficiency, will be talking on topics including how to retrofit and upgrade the heating in older homes, finding gas boilers, effective draft proofing, and more.

Eco-expert David Hilton will de-mystify heat pumps and present other affordable and viable options, and spokespeople from show partners, the National Energy Association, and the Energy Savings Trust, will be on hand to give further guidance.


​

Here are just a few reasons why a visit to the show is a must:
Hundreds of exhibitors and 1000s of products you can finally touch, all under one roof.
New! Home Energy Academy - Understand how you can make the most of the energy in your home. Save money on your bills and reduce your carbon footprint with our free advice.
Seminars - Covering topics from extensions and interior design trends to renovating and remodelling, including insider tips and tricks.
Masterclasses - Gain invaluable insights and see live demonstrations of the latest products to help bring your project from concept to reality.
Advice Centre - Get industry-leading experts to review your plans and impartially guide your project to success, face to face.
Save with exclusive show offers and discounts.

PT members can claim two FREE tickets via this link.