Property Renovations – Budgeting Ground Floor Extensions
RenoConsult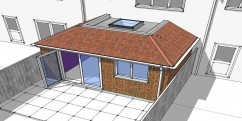 Event Date: Sun 25 April 20:30 Description:
In this session the host will take you through the considerations when budgeting for a ground floor extension
You will have the tools to assess if the quotes from builders/service workers are in line with expectation.
In addition, we will go through other considerations for your budget that the builder is not likely to list in their .quote so you get an idea of the rounded figure.
Platform: Zoom (details will be sent to attendees)
Time: Sunday 830PM (45mins – 60ms)
Network: London
Cost: Free (Limited), £7.50 (Standard, 62% discount from £20)
Host(RenoConsult.co.uk): The host has first hand experience in house renovations.
Agenda:
20:30 – 20:32: Arrival for everyone on Zoom
20:32 – 20:35: Introductions
20:35 – 21:00: Ground Floor Extension Considerations ( Demolish, Foundation, Party wall, Trees, Waste Pipes, Floor, Kitchen, Toilet, Plumbing/underfloor heating, decorating, +more)
21:00 – 21:30: Question and Answer Sessions + AOB
Disclaimer: Please note that this session does not constitute to legal or financial advice