Surrey Property Exchange
Richard Simmons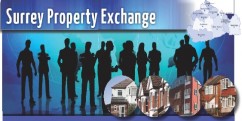 Date:

Monday, 12 April, 2021 at 18:45

Location:

At Home - via Zoom, Home

Type:

Networking

Cost:

£10
Have you got your ticket yet for our 10th birthday celebrations next month...?
A lot has happened since we began a decade ago in April 2011, and we've got a bumper programme to offer you on Monday 12 April.

Our national housing shortage is probably never going to be solved - but factory built modular housing could be a big part of the answer. Bildoo is a go ahead company wanting to make a mark with modular provision for small residential developments.
Elaine New and Barry Hawkins will outline what modular construction is all about, the enhanced specification on offer, and the time and cost savings it brings it brings - this approach is now within reach for all of us in finding small development sites.
How much do you know about equity mortgages? Matt Davey will show us how lifetime mortgages and equity release can be an effective way to release capital to either fund projects or expand property portfolios.
Have you planned a safe secure future for those around you? Barry Lloyd specialises in offering sound estate planning advice and will creation for people involved in property.
Book now and benefit from our early bird ticket offer...!!
http://www.surreypropertyexchange.co.uk