Buy to let Meet Up
Habito with Kate Faulkner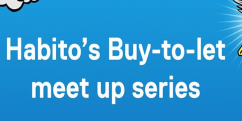 Date:

Tuesday 28 January 2020 , 18:30

Location:

14 Gower's Walk, London

Type:

Seminar

Cost:

Free
What does 2020 look like for landlords? What's the best strategy to maximise your returns over the next year?

At Habito's first ever landlord meetup, you'll get loads of advice, inspiring talks and pizza to start your year right.

We'll cover the political outlook for 2020 and how it might impact you as a landlord. We'll do a deep dive into property forecasts for the year ahead. And we'll show you what to expect for buy-to-let mortgage rates over the next few months.

It's also your chance to meet fellow landlords, hear their stories and share your own.

Expect free drinks, food and loads of time for Q&As.

Cost: FREE

Habito is a mortgage broker and lender that's changing mortgages forever. This event is part of our ongoing series of landlord meetups at Habito, where we talk about the big questions in buying to let.
About Martijn
Martijn van der Heijden is Chief Strategy Officer at Habito, the technology company that's making mortgages modern and easy for customers.
At Habito he's leading innovation that's shaking up the whole industry – like creating brand new types of mortgages from scratch.
Martijn isn't new to leading the way in mortgages. He's transformed product and distribution at some of Britain's biggest banks, like Santander and HBOS. At HSBC, he was global head of mortgages, managing and growing its $300 billion mortgage portfolio across 23 countries.

About Kate
Kate Faulkner is one of the UK's leading property experts and campaigner for consumers and landlords.
She's on a mission to bring the media, industry and government together to educate people about property. Her website propertychecklists.co.uk helps people manage their properties, and breaks down what's happening with the economy, property prices and rents.
You'll catch Kate on shows like the BBC's You and Yours, Moneybox, and Midnight Property Expert, LBC's Property Hour and ITV's This Morning.

Book your tickets