Mayfair Property Meet
Angela Bryant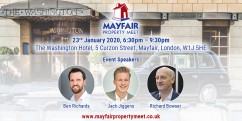 This is the inaugural meeting of the Mayfair Property Meet, a new networking event for the new decade! Hosted by landlord of 25 years and author of two property books Angela Bryant, the speakers for this month's event will be Richard Bowser of Property Investor News (PIN) and EXP Property Development team developer Jack Jiggens and architect Ben Richards.
Richard Bowser will give us his valuable insights into what we can expect in the new year ahead; while Jack and Ben's talk is Growing in an Uncertain Market.
I look forward to seeing you there if you can join us!
If you have any questions in the meantime, please contact info at mayfairpropertymeet.co.uk.
Happy New Year!!
Angela Bryant